This is a 250mAh, 3.7V rechargeable Polymer Lithium Ion(LiPo) battery, with high 25C discharge capability. Each cells outputs a nominal 3.7V. These batteries are means for devices that require high currents, like RC cars, planes, drones, helicopters and similar.
See specifications below for length, width and thickness.
Before usage, check the polarity of the connector(polarized type) matches the polarity of your equipment! There is no standard defining the polarity of LiPo batteries with a Molex connector. We used the polarity that seems to be most common, but your equipment can be different! If it does not match, it is very easy to change the connector polarity. Just use a toothpick or similar to press down on the small latch securing each crimp sockets in the housing, and swap them. Ensure they do NOT touch each other!
This is a high discharge battery, and NOT a normal rate discharge battery. It is suitable for RC cars, planes, drones or other devices that require high power(current) for a short time. They are generally not used for applications that run for a long time(days to months) on a single charge, like portable electronic devices, dash cams, cameras or similar devices. The main difference between a high rate LiPo and normal LiPo is the discharge and charge performance. This battery has a continuous discharge rate of 25C, where a normal rate battery typically has a continuous discharge rate of 1C.
The batteries come pre-attached with a Molex 51005 2-pin connector as shown. It also includes a PCB with protection circuitry. The connector has 2.0mm spacing between it's pins. 
IMPORTANT! See the specifications below, and ensure not to charge or discharge at higher currents or voltages! Also read the Usage & Precaution section below. 
Specifications:
Type: Rechargeable Polymer Lithium Ion battery
Size: 27 x 25mm  (± 1mm)
Width: 5.8mm  (± 0.75mm)
Weight: 20g
Typical Capacity: 250mAh
Nominal Voltage: 3.6V/3.7V
Full Charge Voltage: 4.20V
Discharge rate: 25S

Usage & Precaution
!!!!! IMPORTANT !!!!! These are very powerful batteries, and extreme care should be taken using them. Only use with brand name, quality chargers(like Nitecore) and equipment! Unfortunately we can not replace batteries that are damaged by non-compliant chargers or equipment. There are so many chargers on the market, we can not possibly keep track of which ones will work with these batteries. You will have to contact the charger manufacturer to ensure it can charge these batteries without damaging them. Please ensure you only use these(or any other Lithium Ion) batteries with proper Lithium Ion chargers and equipment. Lithium Ion batteries can easily be damaged by charging them with too high current, or exceeding the maximum rated current discharge. In worst case Lithium Ion batteries can explode or catch fire when used improperly! Use at your own risk. We do NOT accept any responsibly for damage, injury or death caused by improper use of these batteries!
Do not overcharge! Ensure the charger voltage does not exceed the batteries stated full charge voltage.
Do not over-discharge! Ensure the equipment you use this battery in will not draw more current from that batteries than it stated "Maximum Continuous Discharge Current"
Do not leave batteries discharged for a long period! Leaving Li-Ion batteries in a discharged state can incur irreversible damage – creating a loss in capacity and a loss in cycles.
Do not short circuit your batteries! NEVER short circuit a 18650(or more other) batteries! Short circuiting can cause a huge surge of current that will potentially burn out your battery, damage your mod, or even your face!
Do not let your batteries touch each other or other metallic items! Keeping your batteries loose, such as in your pockets, is a good way to have your batteries fail and seriously harm you. There are battery holders and covers to keep your batteries safe.
Do not dispose any battery in a fire! There are dangerous chemicals in batteries. If you try to burn your batteries they'll release dangerous fumes and will probably explode. Always dispose your old batteries to a battery recycling center.
Connector
The Molex 51005 and 51006 connectors are very popular for high power(high discharge current) LiPo batteries.
This connector is widely used for single cell lithium-polymer ion(LiPo) batteries for RC devices, like RC planes, drones, helicopters, cars and similar. It is a polarized connector, meaning it can not be plugged in the wrong way.
The Molex 2.0mm 2P Connector has become a popular battery connector for many RC toy manufacturers because of its easy operation (plug and unplug) and plainly visible connection orientation. It's technical specification is "Molex 51005/6-0200", Please be aware that different manufacturers may wire this connector in opposite ways, so be sure to check the actual polarity your system requires instead of just trusting the wire colour. This connector is commonly used by manufacturers and products such as Losi, Skytec, Walkera (Ladybird), Hubsan , Mini CP and Genius CP. It's a slightly larger battery connector than other micro RC connectors and its leads are commonly thicker as well. This connector is easily distinguishable by its spade type connector pins.
Specification:
- 2A per contact
- Pitch = 2.0mm
Part Numbers:
Molex 51005 (51005-0200) = Female Housing, 2.00mm Pitch Wire-to-Wire Plug Housing, 2 Circuits
Molex 51006 (51006-0200) = Male Housing, 2.00mm Pitch Wire-to-Wire Plug Housing, 2 Circuits
Molex 50012 (500128000, 50012-8000) = 2.00mm Pitch Crimp Terminal, for 51006 Housing
Pictures:
Below are some pictures showing these connectors and their dimensions.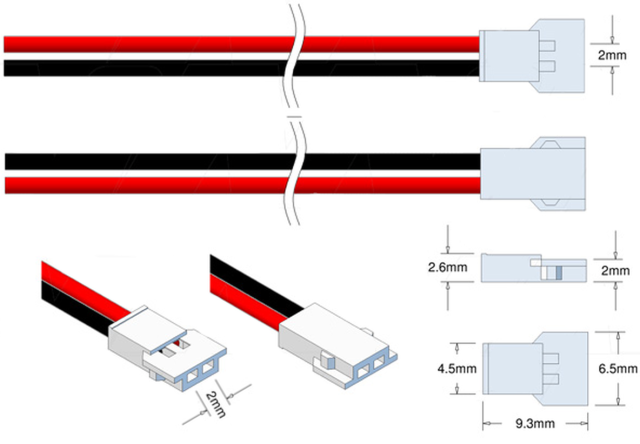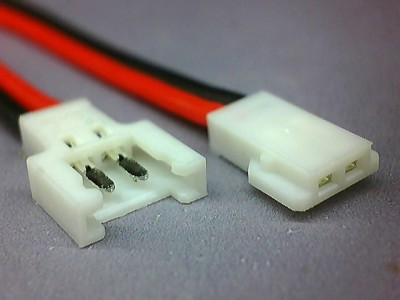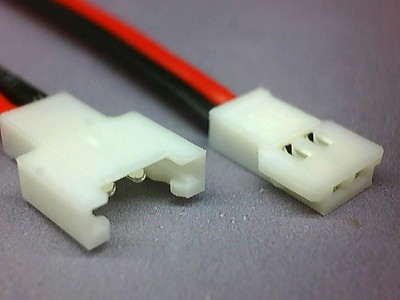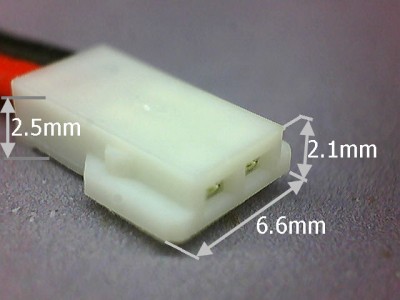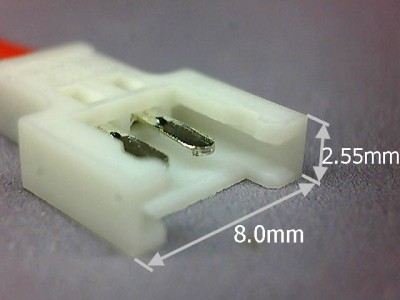 Package Includes
1 x Polymer Lithium Ion Battery, with cable and JST connector