This is a 100mAh, 3.7V rechargeable Polymer Lithium Ion battery. Each cells outputs a nominal 3.7V.
Before usage, check the polarity of the connector(polarized type) matches the polarity of your equipment! There is no standard defining the polarity of LiPo batteries with a JST-PH connector. We used the polarity that seems to be most common, but your equipment can be different! If it does not match, it is very easy to change the connector polarity. Just use a toothpick or similar to press down on the small latch securing each crimp sockets in the housing, and swap them. Ensure they do NOT touch each other!
This is a normal discharge battery, and NOT a high rate discharge battery. It is NOT suitable for RC cars, planes, drones or other devices that require high power(current) for a short time. They are for applications that run for a long time(days to months) on a single charge, like portable electronic devices, dash cams, cameras or similar devices. The main difference between a high rate LiPo and normal LiPo is the discharge and charge performance. This battery has a continuous discharge rate of 1C, where a high rate battery has a continuous discharge rate of 5C, 10C, 15C, 20C, 25C, 30C 40C, 50C or higher.
The batteries come pre-attached with a genuine 2-pin JST-PH connector as shown and includes the necessary protection circuitry. The JST-PH connector has 2.0mm spacing between it's pins. Because they have a genuine JST connector, not a low quality knock-off, the cable wont snag or get stuck in a matching JST jack, they click in and out smoothly.
The included protection circuitry keeps the battery voltage from going too high (over-charging) or low (over-use) which means that the battery will cut-out when completely dead at 3.0V. It will also protect against output shorts. However, even with this protection it is very important that you only use a LiIon/LiPoly constant-voltage/constant-current charger to recharge them and at a rate of 0.5C or less. Like most lipos, the batteries we sell do not have thermistors built in. This is why we suggest charging at 0.5C or even less, which is 50mA max for this battery.
When using this battery for wearable applications, and with conductive thread, a short in the thread can create sparks and heat. We recommend using coin cell batteries for beginners.
IMPORTANT! See the specifications below, and ensure not to charge or discharge at higher currents or voltages! Also read the Usage & Precaution section below. 
Specifications:
Type: Rechargeable Polymer Lithium Ion battery
Size: 25 x 20mm
Width: 3mm
Weight: 3g
Typical Capacity: 100mAh
Nominal Voltage: 3.6V/3.7V
Full Charge Voltage: 4.20V
Standard Charge Current: 0.2C = 20mA
Maximum Charge Current: 0.5C = 50mA
Recommended Maximum Discharge Current: 0.5C = 50mA
Maximum Discharge Current: 1C  = 100mA
Temperature Range: -20°C to +60°C
Protected/Unprotected: Protected
Usage & Precaution
!!!!! IMPORTANT !!!!! These are very powerful batteries, and extreme care should be taken using them. Only use with brand name, quality chargers(like Nitecore) and equipment! Unfortunately we can not replace batteries that are damaged by non-compliant chargers or equipment. There are so many chargers on the market, we can not possibly keep track of which ones will work with these batteries. You will have to contact the charger manufacturer to ensure it can charge these batteries without damaging them. Please ensure you only use these(or any other Lithium Ion) batteries with proper Lithium Ion chargers and equipment. Lithium Ion batteries can easily be damaged by charging them with too high current, or exceeding the maximum rated current discharge. In worst case Lithium Ion batteries can explode or catch fire when used improperly! Use at your own risk. We do NOT accept any responsibly for damage, injury or death caused by improper use of these batteries!
Do not overcharge! Ensure the charger voltage does not exceed the batteries stated full charge voltage.
Do not over-discharge! Ensure the equipment you use this battery in will not draw more current from that batteries than it stated "Maximum Continuous Discharge Current"
Do not leave batteries discharged for a long period! Leaving Li-Ion batteries in a discharged state can incur irreversible damage – creating a loss in capacity and a loss in cycles.
Do not short circuit your batteries! NEVER short circuit a 18650(or more other) batteries! Short circuiting can cause a huge surge of current that will potentially burn out your battery, damage your mod, or even your face!
Do not let your batteries touch each other or other metallic items! Keeping your batteries loose, such as in your pockets, is a good way to have your batteries fail and seriously harm you. There are battery holders and covers to keep your batteries safe.
Do not dispose any battery in a fire! There are dangerous chemicals in batteries. If you try to burn your batteries they'll release dangerous fumes and will probably explode. Always dispose your old batteries to a battery recycling center.
Connector
The JST-PH 2mm connectors are often just referred to as "2.0mm JST Connectors". This is a generalization of a specific product from JST, a Japanese company which make high-quality connectors. This connector is their PH series polarized connector. It has the advantage of being compact, durable, and difficult to connect backwards. Another feature, which can be an advantage or a disadvantage, depending on how you look at it, is that the JST connector is very hard to disconnect (although a carefully applied diagonal cutter can be helpful!) once it's mated. While this makes it unlikely to fail during use, it also means that disconnecting the battery for charging can damage the battery connector.
This connector is widely used for single cell lithium-polymer ion batteries. For example, most single cell lithium-polymer ion batteries from Sparkfun use this type of JST connector, and many of their boards include it as a power supply input.
This connector is compatible with the power connectors on the Logomatic v2 serial SD datalogger and uLog 3-channel datalogger, with the red wire connecting to + and the black to −.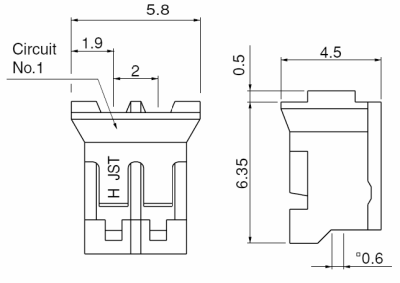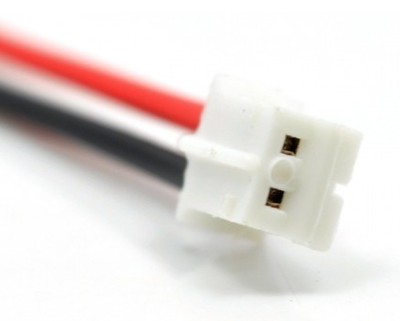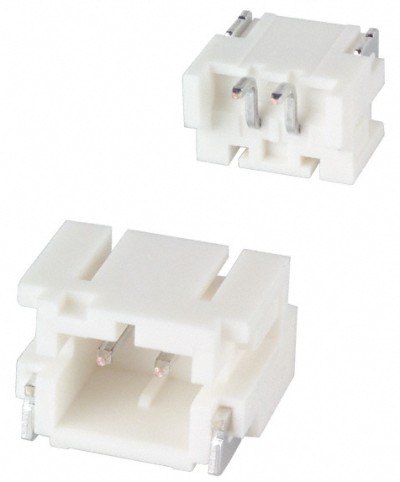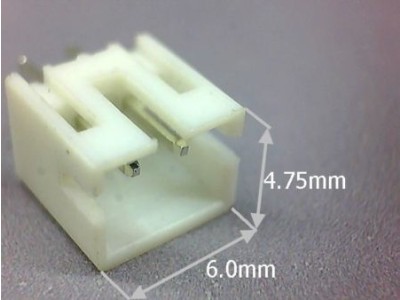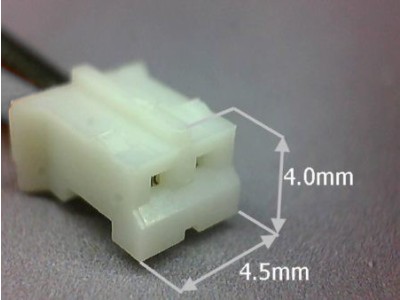 Package Includes
1 x Polymer Lithium Ion Battery, with cable and JST connector